Feb 12th update to the Calgary Event Calendar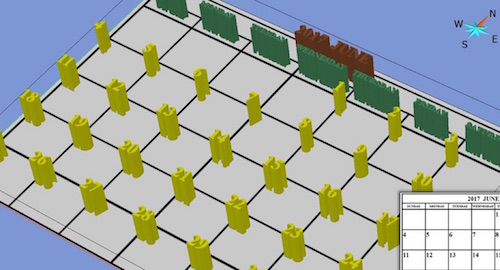 The Calgary Event Calendar has been updated on Sunday 11th of February. The association SPE-Calgary has been added. In total, 16 events from 2 associations have been added. The next update will be on Sunday 18th of February. See the Calendar.
Check events' webpages early to be sure to not miss important information such as early-bird registration fees or registration deadlines.
Associations update:
APEGA-Calgary branch: 1 new event
CCA Alberta: no change
CHOA: no change
CSEG: waiting on the official green light to add their events.
CSPG: no change
CSUR: no change
CWLS: waiting on the official green light to add their events.
Petroleum History Society: no change
SPE: 15 new events
New events added to the Calendar on Sunday 11th of February:
| | | |
| --- | --- | --- |
| 11-Feb | SPE-Calgary | Art of Romance. Art of Soul |
| 20-Feb | SPE-Calgary | Does Flowing Pressure Matter? A Statistical Study |
| 22-Feb | SPE-Calgary | Business Breakfast Series SIG: AER's Transformation to the Integrated Decision Approach |
| 27-Feb | SPE-Calgary | Geomechanical Effects on SAGD Productivity & Wellbore and Caprock Integrity |
| 01-Mar | SPE-Calgary | Geomechanical Modeling of the Microseismic Response of Faults to Hydraulic Fracturing |
| 02-Mar | APEGA-Calgary Branch | Contract Administration and Contractual Issues for Projects |
| 12-Mar | SPE-Calgary | Distinguished Lecturer: Minimizing Environmental and Safety Risks to Sustain Resource Recovery |
| 13-14 Mar | SPE-Calgary | Heavy Oil and Unconventional Resources Conferences |
| 14-Mar | SPE-Calgary | Oil & Gas Competitiveness: From the Canadian Energy Landscape to Your Own Career |
| 14-Mar | SPE-Calgary | Scotch & Whiskey Pi Day Tasting |
| 20-Mar | SPE-Calgary | Re-purposing Discontinued and Abandoned Pipelines as Conduit for Pipeline Installation |
| 22-Mar | SPE-Calgary | 3esi-Enersight & GLJ: A Partnership to Adapt and Lead in the Future of Reserves Evaluation, Data Analytics, and Management Solution |
| 28-Mar | SPE-Calgary | Stars of Poker for Education |
| 26-Apr | SPE-Calgary | Scientific Research and Experimental Development (SRED) Incentive Program and how it adds value to your organization |
| 21-Jun | SPE-Calgary | SPE 29th Annual Golf Tournament |
| 30-Sep-2019 | SPE-Calgary | SPE Annual Technical Conference and Exhibition - ATCE 2019 |