June 10th 2019 update to the Calgary Event Calendar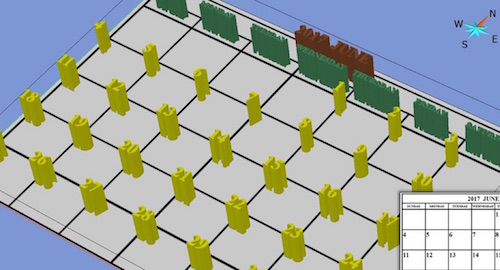 The Calgary Event Calendar has been updated on Monday 10th of June. 42 events have been added. The next update will be on Monday 17th of June. See the Calendar.
Check events' webpages early to be sure to not miss important information such as early-bird registration fees or registration deadlines.
Associations update:
APEGA-Calgary branch: 17 new events
CCA-Alberta: no change
CHOA: no change
CSEG: 21 new events
CSPG: 3 new events
CSUR: no change
CWLS: no change
ESfS: no change
Petroleum History Society: no change
SPE-Calgary: 1 new event
Other: no change
Events added to the Calendar on Monday 10th of June:
| | | |
| --- | --- | --- |
| 10 Jun | CSEG | The Geological Susceptibility of Induced Earthquakes in the Duvernay Play |
| 12 Jun | CSPG | Predicting Potential Reservoirs in Reservoir Plays by DNA Fingerprinting and Machine Learning |
| 12 Jun | CSPG | Volcanic Islands and Organic Carbon |
| 25 Jun | SPE-Calgary | Data Analytics: Machine Learning: Usability, Stability & Interpretability |
| 27 Jun | CSPG | CSPG Heavy Oil/Oil Sands Division Pre-Stampede Division Social |
| 14 Aug | APEGA-Calgary | Knowing Your Brand: Preparing Your Career for the Future of Work |
| 20 Aug | APEGA-Calgary | Fundamentals of Project Management |
| 22 Aug | APEGA-Calgary | Effective Meetings Workshop |
| 02 Oct | APEGA-Calgary | HR101: HR for non-HR Professionals |
| 03 Oct | APEGA-Calgary | Notarius: Digital Signatures |
| 16 Oct | APEGA-Calgary | Knowing Your Brand: Preparing Your Career for the Future of Work |
| 22 Oct | APEGA-Calgary | Permit to Practice Seminar |
| 23 Oct | APEGA-Calgary | Permit to Practice Seminar |
| 29 Oct | APEGA-Calgary | Advanced Ethical Decision Making |
| 04 Nov | APEGA-Calgary | Client and Contractor Relations |
| 04 Nov | CSEG | CSEG DoodleTrain course - Rights, Privileges, Responsibilities and Obligations of Seismic Data Ownership |
| 04 Nov | CSEG | CSEG DoodleTrain course - Seismic Amplitudes: uncertainty and information |
| 04 Nov | CSEG | CSEG DoodleTrain course - Geostatistical Applications in Petroleum Exploration |
| 04 Nov | CSEG | CSEG DoodleTrain course - Introduction to micro seismic and induced-seismicity monitoring |
| 04-05 Nov | CSEG | CSEG DoodleTrain course - Recent Sand Models |
| 04-05 Nov | CSEG | CSEG DoodleTrain course - Completions and Stimulations for Geophysicists |
| 04-05 Nov | CSEG | CSEG DoodleTrain course - Practical QI: A Comprehensive Overview for Interpreters |
| 05-06 Nov | CSEG | CSEG DoodleTrain course - Introduction to Seismic Reservoir Characterization |
| 05-06 Nov | CSEG | CSEG DoodleTrain course - Neural Networks and Machine Learning Applications in Petroleum Exploration |
| 05-06 Nov | CSEG | CSEG DoodleTrain course - A Hands-On Introduction to Full Waveform Inversion |
| 06 Nov | CSEG | CSEG DoodleTrain course - Pre- and Post-stack Seismic Inversion |
| 06-07 Nov | CSEG | CSEG DoodleTrain course - How Engineers Mitigate Risk and Increase Profitability Using Integrated Geophysical Applications: A course for Geoscientists and Engineers |
| 06-07 Nov | CSEG | CSEG DoodleTrain course - Interpretation Workflows and the Toolbox for a Solid Seismic Interpretation |
| 06-07 Nov | CSEG | CSEG DoodleTrain course - Principles of Hydraulic Fracturing |
| 07 Nov | APEGA-Calgary | Knowing Your Brand: Preparing Your Career for the Future of Work |
| 07-08 Nov | CSEG | CSEG DoodleTrain course - Introduction to Seismic Acquisition |
| 07-08 Nov | CSEG | CSEG DoodleTrain course - Seismic Geomorphology and Seismic Stratigraphy – Extracting Geologic Insights from 3D Seismic Data |
| 07-08 Nov | CSEG | CSEG DoodleTrain course - Business Fundamentals for Petroleum Geophysics |
| 07-08 Nov | CSEG | CSEG DoodleTrain course - Seismic facies classification using machine learning tools |
| 07-08 Nov | CSEG | CSEG DoodleTrain course - Seismic Rock Characterization for Unconventional Resources |
| 08 Nov | CSEG | CSEG DoodleTrain course - Rock Physics and Geomechanics - from Logs to Seismic |
| 12 Nov | APEGA-Calgary | Permit to Practice Seminar |
| 13 Nov | APEGA-Calgary | Permit to Practice Seminar |
| 28 Nov | APEGA-Calgary | Notarius: Digital Signatures |
| 10 Dec | APEGA-Calgary | Permit to Practice Seminar |
| 11 Dec | APEGA-Calgary | Permit to Practice Seminar |
| 19 Dec | APEGA-Calgary | Notarius: Digital Signatures |